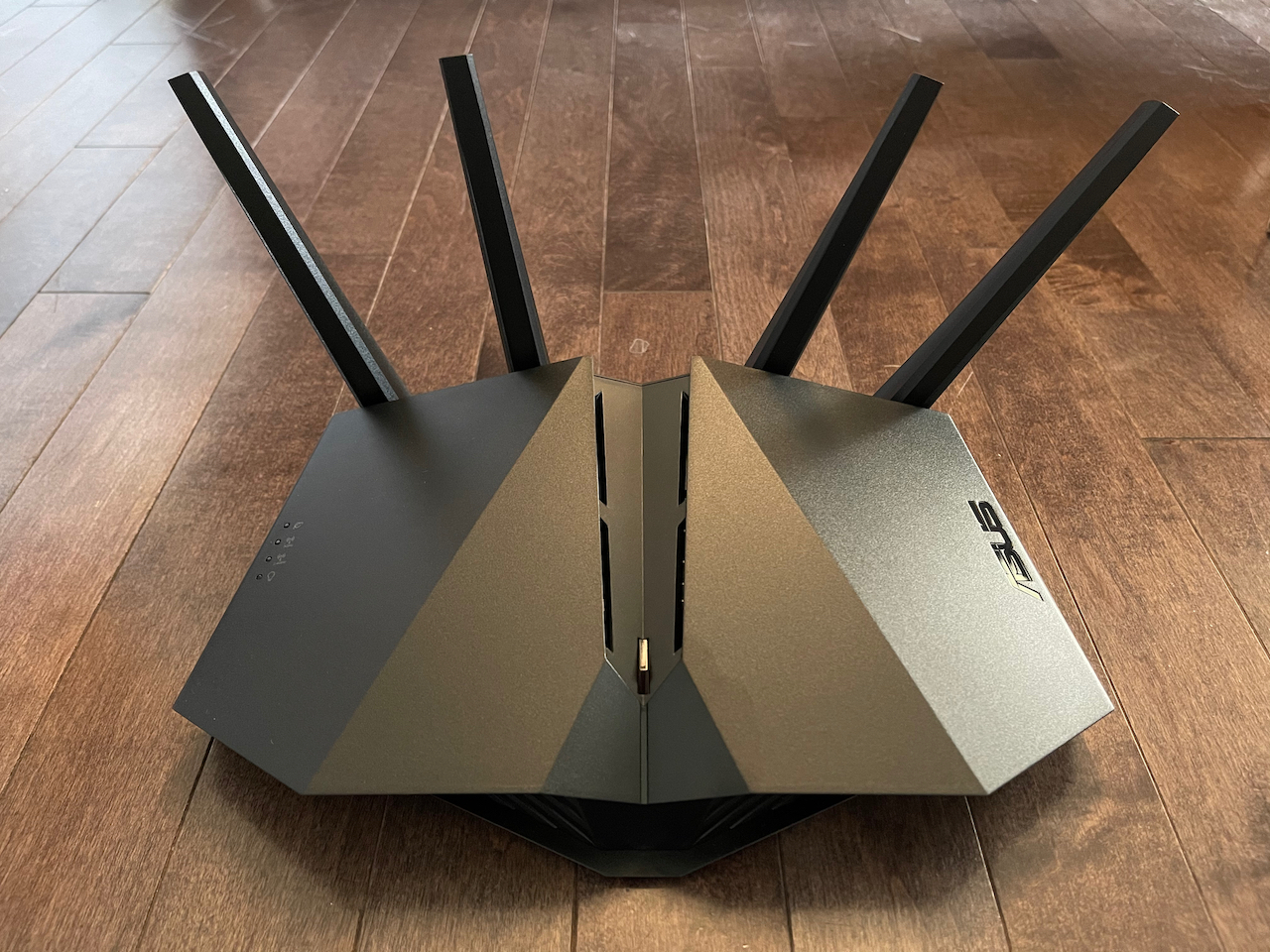 Recently, thanks to my good friends at Best Buy Canada, I have had the pleasure and opportunity to try out a gifted ASUS 6-Stream Wireless AX5400 Dual-Band Wi-Fi 6 Gaming Router. I have had mixed results with routers in the past and was currently using a higher end Netgear solution that was functional, but did not really perform well enough for what I truly needed it for. I live in a large house (2500 sq ft) and the Wi-Fi has to reach to the very far corners of both the basement and the bonus room (both cases there is an entertainment unit at the end). I have situated the router somewhere close to the middle of the house (on the main level) and, while we received decent Internet ion the main level of the house, wifi in the far corners (Basement, Bonus Room, Master Bedroom) was still rather spotty which forced me to put in an elaborate hard lined setup. I was therefore initially dubious that I would find a router that would reach the entire house. Dubious until I tried out the ASUS 6-Stream Wireless AX5400 Dual-Band Wi-Fi 6 Gaming Router.
First of all, because it is a rather striking piece of hardware, let's talk about aesthetics. The ASUS 6-Stream Wireless AX5400 Dual-Band Wi-Fi 6 Gaming Router is a very modern looking piece of hardware, it really exude a gaming router aesthetic; almost like a UFO or a jet. It's smaller than I was expecting, sitting roughly 75% of the size of my previous Netgear solution, which helps out immensely with my limited desk space. The front of the unit lights up red initially as it starts up, then settles into a cool blue color once running. It's a neat display piece, I expect to have a few questions about it from visitors.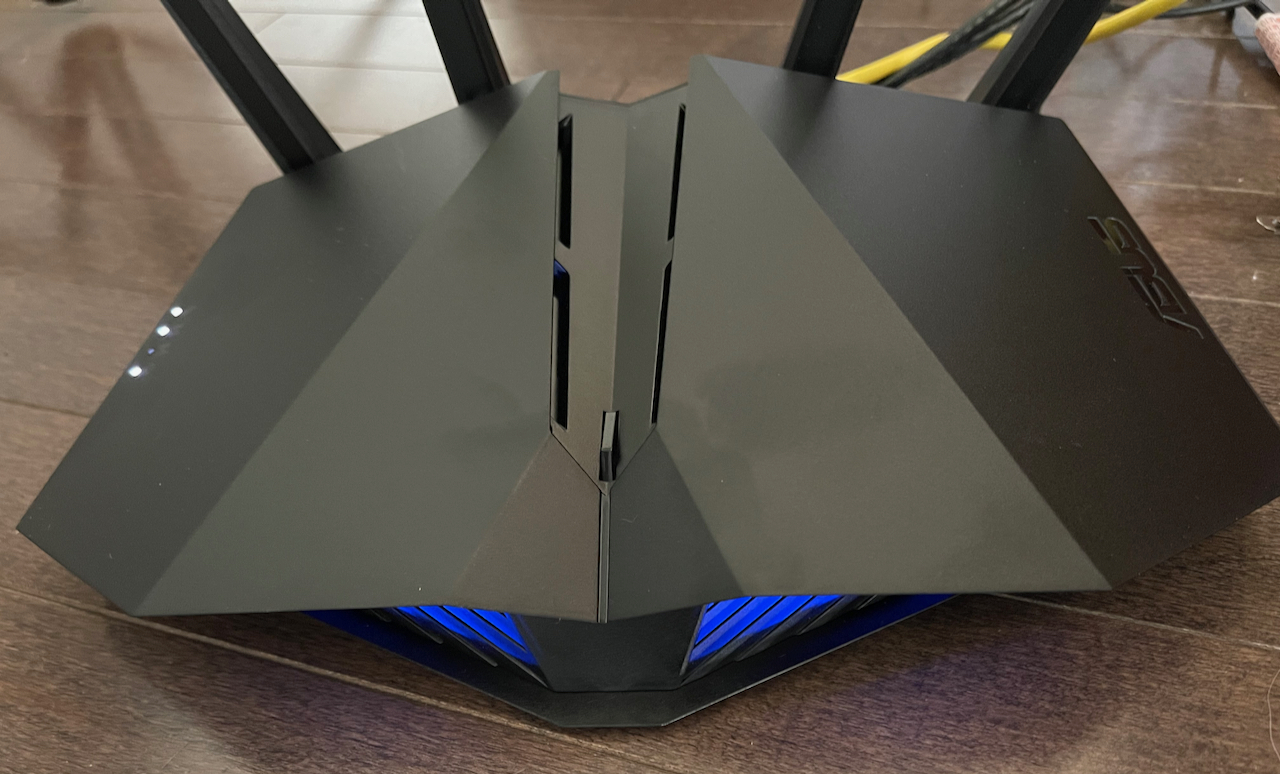 While I was hoping for some speed boosts at long ranges, I was pleasantly surprised (shocked almost!) to find that it also drastically sped up the hard lined connection to my computer and wifi in the office. As you can see by the speed tests below, I was hitting ~330MB on hard line on my old router, 600+MB on the ASUS. With wifi, I was hitting only ~30MB which shot up to well past 300MB!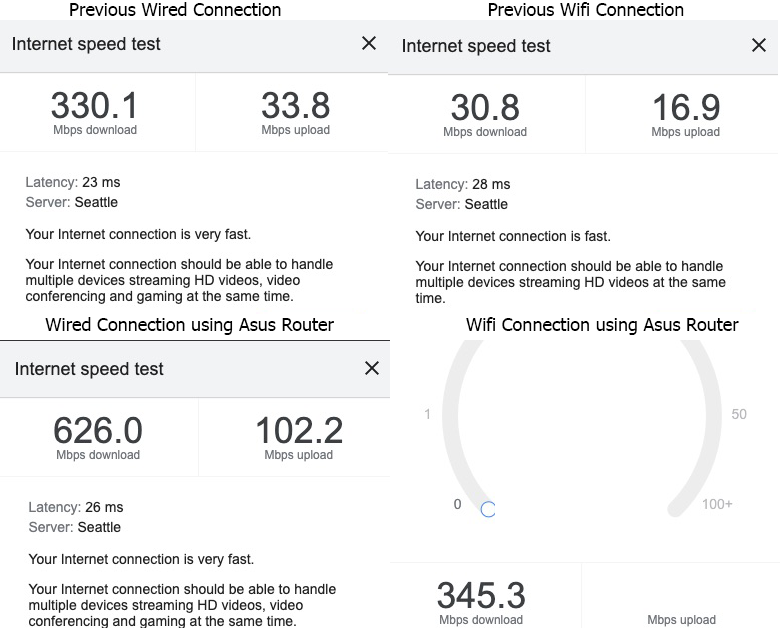 My wife was the next test. Typically she likes to watch some YouTube videos on her phone in bed before sleep. Traditionally this was being done with cellular data as the wifi wouldn't reach / was too slow if it did. Over the last few days of using the ASUS, she has had strong wifi reception and excellent speeds (easily good enough to enjoy her videos).
The final test for a gaming router comes with my kids playing online games in the far corner of the basement and myself on my PlayStation 5 in the bonus room. Essentially the two farthest away places from the router in the house. Traditionally I have several super long ethernet cables running from the modem all the way through the rooms and around back of the entertainment room to hardline in the different consoles. My wife is not a huge fan of this setup (visible cords everywhere). My kids tested both the new hardline and the new wifi.  I am pleased to say that the wifi now reaches and is attaining speeds comparable to my old router's hardline! That is to say, very stable, no lag.  And, again somewhat surprising to me as an added advantage, the new hardline is even faster! Kids are ecstatic, incredibly fast game updates, zero lag. No more blaming the Internet connection when they lose a match of Fortnite.
Overall I am very satisfied with the ASUS 6-Stream Wireless AX5400 Dual-Band Wi-Fi 6 Gaming Router. It single handedly helped alleviate one of the largest pain points my family and I have had since moving into this house. I have tried several routers, modems, and even a mesh type solution in the past, all had their issues and didn't fully solve the problem (or created more of their own). This is the first time I feel as though the problem is finally fixed. If you are looking for a good looking, strong performing router or need some extra range and speed, this router should work very well for you and yours!
Want one? Pick it up here at Best Buy Canada (exclusive)!
Check out Best Buy's full assortment of tech for gamers and streamers
Specifications
Four-antenna router with Wi-Fi 6 (802.11ax) connects up to 30 devices across 2,000 sq. ft. of coverage
Dual-band AX5400 connectivity at 2.4GHz and 5GHz gives you combined speeds of up to 6Gbps for smooth high-resolution video playback, ultra-fast file-sharing, and lag-free online gaming
10/100/1000 ethernet with a WAN port and 4 LAN ports give you plenty of wired connectivity options
Backwards compatibility supports all older Wi-Fi devices, including those compatible with Wi-Fi 5 (802.11ac), Wi-Fi 4 (802.11n), and earlier Wi-Fi versions (802.11a/b/g)
Lifetime AiProtection powered by Trend Micro firewall features internet security, robust parental controls, guest access, and more
QoS (Quality of Service) controls allow you to easily prioritise gaming packets and other activities
Two USB 3.0 ports enable the connection of external peripherals like an external hard drive and printer for file and print sharing
ASUS Aura RGB lighting lets you choose from a variety of effects and customise lighting for specific modes
Pictures
Disclosure
A review product was provided to me via Best Buy Canada.
Like what I'm doing and want to help support me? Please feel free to shop through my affiliate links (but please don't feel obligated to do so).