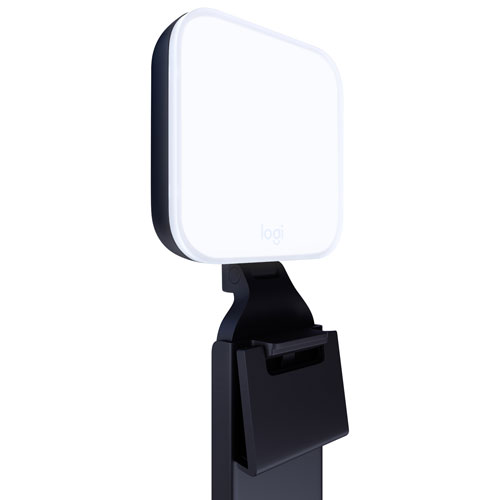 Our friends at Best Buy Canada and Logitech were kind and generous enough to provide us with a Logitech Litra Glow Premium LED Streaming Light with TrueSoft to review.
As some of you know, my good friend Marc Camron and I started a podcast last year. Granted we both became insanely busy with work and are on a temporary hiatus, but we are working hard to get it going again.
Being new to being on screen, I obviously realized I needed a good camera and microphone, but what I did not realize was that I also needed a good lighting system.
If you watch a few of our podcasts, you can see me experimenting with lighting. I picked up a super cheap Ring Light and found that it underperformed in every way. It was serviceable, but certainly did not deliver the results I was hoping for.
When Best Buy Canada reached out for me to try a premium solution, I was very interested, I wondered how much of a difference a good light could make. Turns out quite a lot!
First off, let's talk features.
The light itself sits nicely on top of a monitor setup.  I have a rather large monitor that my webcam currently rests on, this easily rests next to it, doesn't take up much room and feels very safe and steady, never feels like it's going to fall off. Compare that to my ring light which has to be clamped to my desk which isn't ideal.
It also features two different types of lighting.  There is a typical white, bright light and you can switch it to a more subtle, warm light.  Both are rather pleasing to the eye and you could switch them around to work with your current lighting situation wherever you are working from or whatever you are working on.
Speaking of light, this produces a LOT of it. There are multiple brightness settings which range from soft glow to practically flood light!  You can really get a lot of brightness out of this.  That being said, it never feels particularly blinding as it has something of a shield on it that prevents it from glaring too much into your eyes.
It also does not seem to consume an obscene amount of power. It runs off of a standard USB connection which I have plugged into a small laptop adjacent to my main computer and it doesn't struggle for power at all, despite putting out a ton of  light.
I have tried out the light now in recording sessions as well as zoom meetings and I feel that the benefits have been well received.  Whereas my overhead lights and / or window in my office produce far too much light and lead to some bad glare, I can use the Logitech Litra Glow to give me exactly how much light I want and eliminate unfortunate glare, etc.
Overall the Logitech Litra Glow Premium LED Streaming Light definitely feels like the right naming convention, everything about it feels premium.  I didn't know if it would be worth spending the extra money to get a more premium lighting source, but I will tell you that I will never record again without one.  The versatility, stability and range of options sold me and it just feels easy to use and simple to setup for a wide range of activities.  For the casual Zoom meeting to the more advanced Streamer or Podcaster, this feels like a good fit for anyone spending time producing content on their computer.
If you would like to give it a try, you can pick it up at Best Buy Canada here (MSRP $79.99 CAD).
Currently on sale at Best Buy Canada for $64.99 as part of the Black Friday deals! Makes a great gift!
Additional Specifications:
USB-powered, lightweight, portable design makes Litra Glow the ultimate light for streamers and content creators
Featuring Logitech's TrueSoft technology that delivers balanced, full-spectrum LED light with cinematic color accuracy for better video recording
Litra Glow's frameless diffuser radiates wide, soft light that focuses on the subject and eliminates harsh shadows to obtain perfect lighting
Logitech's free G HUB desktop app gives access to control the USB webcam light's brightness, color temp, on/off, and load/save presets and many other settings to achieve the video look you want
With patent-pending and 3-way monitor mount adjust your desired height, tilt and rotation to experience perfect light placement
Declared safe for all-day streaming by clearing the strictest UL testing guidelines
Gallery
Leave a comment below and let me know what you look for most in a Streaming Light!