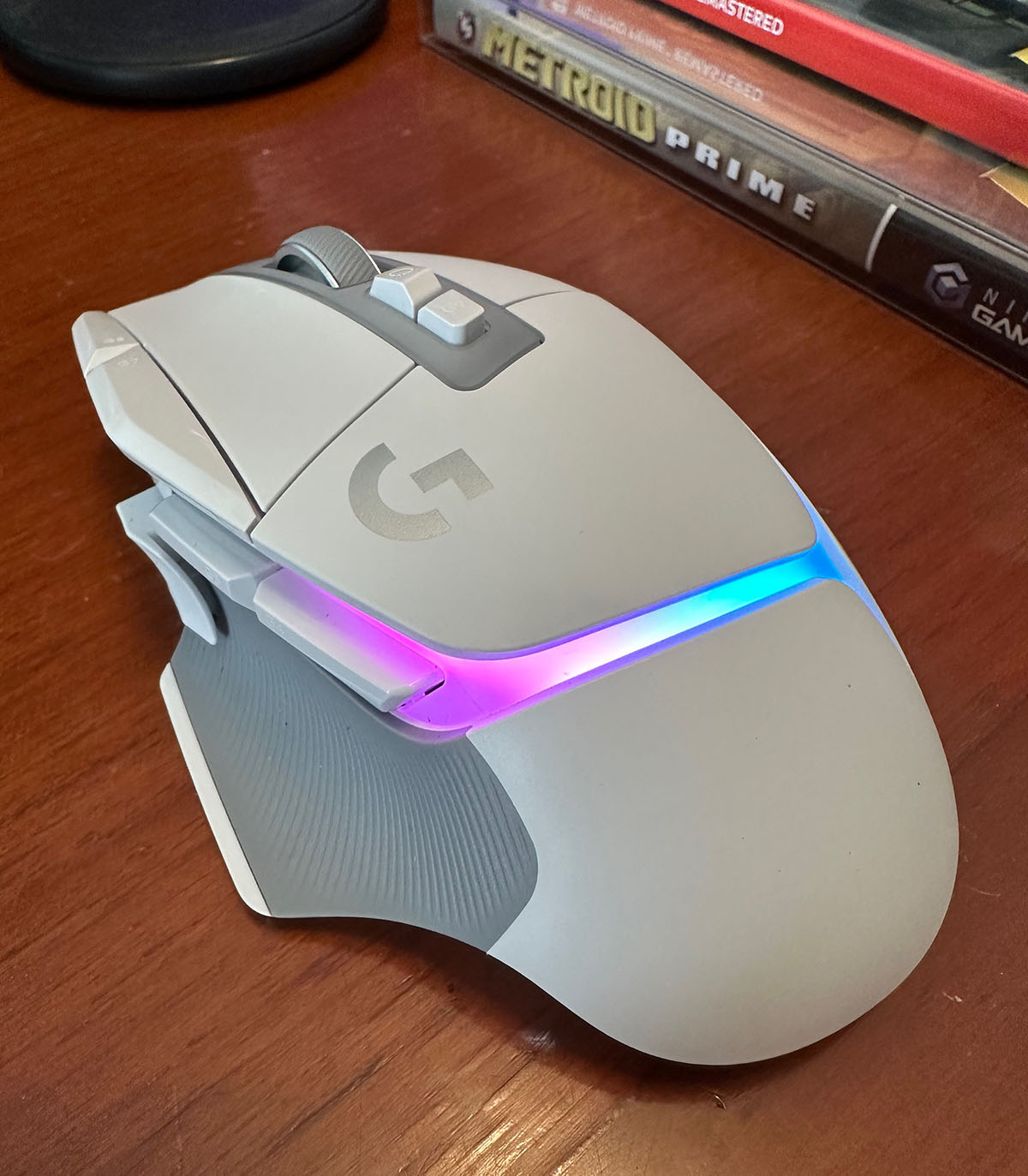 Our friends at Best Buy Canada and Logitech were kind and generous enough to provide us with a Logitech G502 X PLUS 25000 DPI Wireless Optical Gaming Mouse to review and one to give away!
Contest has closed, congrats to @3SonsAndNoTime
As a self employed software developer, an avid gamer, and a father of three wonderful children, I always like to review gaming peripherals from two different views. I want to see how it works as a work mouse, and then as a gaming mouse.
Work Mouse
First, let's start with the G502 X PLUS as a work mouse.  Typically, I find it fairly difficult to use gaming mice as work mice.  The issue isn't in the mouse generally, it's more that I'm SO used to an Apple Magic Mouse that anything else feels almost too sharp. I sort of expected the same thing, typically these mice are amazing for gaming but too precise for work.  This one surprised me in a very good way.
First off, this mouse is LIGHT and precise, incredibly fast and accurate.  Normally that would be trouble for me in a work environment. However, I reduced the tracking speed by about 30% and suddenly it was a game changer.  I wasn't missing, even with my slightly slowed-with-age reflexes, I was able to hit the target nearly every time.  It's FAST but allows for lightning quick movements and accurate clicks.
My next usual complaint with Gaming Mice for work is the scroll wheel. I'm used to using the touch scroll on the Magic Mouse and typically the clicky scroll wheel isn't precise enough for my liking. Thankfully the G502 X PLUS fixes this by giving you an option. You can leave it on the default (non-clicky) which feels very close to the Magic Mouse touch swipe OR you can switch it to clicky if that's your jam.  Both work remarkably well and, by combining them, it makes it highly functional.
In short, this mouse is VERY usable in a work place environment. It's light, feels good and is accurate and fast.  You may have to play with the settings, but once you get it, it works very well.
Gaming Mouse
Next, let's talk about the G502 X PLUS as a gaming mouse.  As you might expect, the issues I have with speed / accuracy in the work environment suddenly become incredible features in the gaming department.  When you are gaming, the mouse needs to be able to keep up with you and accuracy / precision are key.  Naturally this mouse does not disappoint.
Did I mention how light it is? It almost feels "too" light at work, but when gaming it feels really good and responsive.  Really feels like your hand is doing the work and barely have to move the mouse at all. 
Also, and this is purely aesthetic, but the G50 X PLUS just looks cool. When you first fire it up, it instantly starts glowing and just looks pro.  It visually pulses the light just enough for it to catch your eye, but not distract.  It feels good too. The grip fits my hands perfectly (I have medium sized man hands) and just feels natural.
I let the kids have a go at it as well as they play some faster paced games.  My youngest took it for a spin in his many Roblox multiplayer PVP sessions.  He immediately took to it and reported that it felt much, much better than previous mice he used. Granted, he's not accustomed to higher end gaming mice, but it certainly was one heck of a step up.
However, I know it's really solid when my eldest (late teen) essentially stole it and wouldn't let it go. He used it pretty thoroughly through Apex Legends, Roblox, and Fortnite and loved it. He enjoyed it so much that I had a hard time getting it back from him to write this review.  I fully expect to find it missing again this evening.
Summary
All in all, I find myself very impressed with the G50 X PLUS. I feel like it combines all of the comfort, speed, accuracy and weight of a pro level gaming mouse with the comforts, flexibility and options of a daily driver mouse to very nice effect. If you have just one mouse in the house, this would make for a very nice addition to the family.
If you would like to give it a try, you can pick it up at Best Buy Canada here (MSRP $219.99 CAD).
Additional Specifications:
Wireless mouse featuring Lightspeed wireless technology that enables superior connectivity with enhanced reliability and faster response

Designed for right-handed use

Hero 25K gaming sensor delivers excellent DPI performance up to 25000 dpi, allowing you to achieve accuracy with zero smoothing

Thirteen programmable buttons (including scroll wheel) and five memory profiles let you set up the mouse for different game play

Innovative hybrid optical-mechanical Lightforce switches guarantee reliability and speed with crisp response

New DPI-shift button, featuring a removable and reversible button, allows for optimal customization according to your grip and other needs

New dual-mode scroll wheel lets you swap between two modes – super-fast free spin mode and precise ratcheting mode – giving you more options for personalization

Powerplay compatibility allows the mouse to be charged while at play or rest using Logitech's innovative wireless charging solution (sold separately)

Lightsync RGB with 8-LED lighting delivers customizable and dynamic lighting that adapts to your game play

Compatible with Windows and macOS operating system

Rechargeable battery with up to 120 hours of battery life (depending on usage) allows for hours of uninterrupted game play
Gallery:
Leave a comment below and let me know what you look for most in a Gaming Mouse!