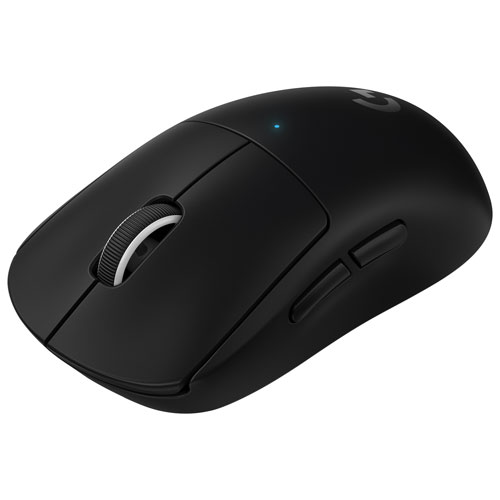 Our friends at Best Buy Canada and Logitech were kind and generous enough to provide us with a Logitech G Pro X Superlight 16000 DPI Wireless HERO Optical Gaming Mouse to both review and also one to give away!
A winner has been drawn! Congrats to @followguga for winning!
To enter for your chance to win one:
Comment below telling us what you look for most in a gaming mouse
Giveaway ends January 17, 2022
Entrants must be residents of Canada
Winner will be contacted via Twitter DM
For the purposes of this review, I'll be focusing on using this mouse for two major purposes. First, from a gaming perspective. As some of you know, I don't play a lot of games with a keyboard and mouse, but luckily my kids sure do and my two boys have been using this mouse extensively over the holidays for a variety of games and have given me their opinions on it.  Secondly, I've been using the same mouse from an office perspective. As you know, speed of posting to social media is a very important aspect of what I do and I feel that I really have an understanding of what this mouse can do.
From a gaming perspective, my kids focussed heavily on two games; Roblox and Fortnite. They played on an Xbox Series X and an Xbox One S. Having never played with a higher end mouse, this was quite a game changer for both of my sons (one 15, the other 10).  The mouse is extremely light and easy to plug in and get going with. With Roblox, this made things very easy to control and, given the platforming nature of a lot of the games, helped out dramatically by cutting down the possibility for mistakes.
Fortnite is where this mouse really seems to shine though. Anyone who has played Fortnite competitively will note that speed and accuracy are very important elements for success.  This mouse allows for very rapid movements and, perhaps more importantly, extreme accuracy.  Definitely the children's ability to build / maneuver / make crucial shots were accelerated greatly.  Again, this comes from using a much more simplistic mouse in the past, but the Logitech G Pro X Superlight 16000 DPI Wireless HERO Optical Gaming Mouse made a tremendous difference for the kids.  It took me a while to wrangle it back out of their hands.
Now, as for office use, typically I use an Apple Magic Mouse so this was a quite a bit different for me.  Immediately of note is how light the Logitech mouse is.  It's easily half the weight, if not less.  It actually took a bit of getting used to for me simply because of how light it is. It's light which means you can move it around rapidly.  Once adjusted to it, you can do more, faster.
The biggest improvement I found however was the accuracy.  The Magic Mouse, perhaps due to its weight, I find that occasionally I will overshoot my target and have to go back for it.  The Logitech I found myself hitting whatever I was going for with greater ease and with a higher level of precision.  This would be a lovely mouse to use in the office.
If I had one complaint, and this may be a Mac specific complaint, it's comparing the scroll wheel vs the Magic Mouse's swipe to scroll.  The Magic Mouse has some momentum to it, which I'm used to and appreciate, while the scroll wheel on the Logitech is precise and accurate. How much you roll it equals how far it scrolls. This might actually be a bonus for some, however I'm so used to some momentum that it was difficult for me to get used to.  Further to this point is that using the scroll wheel wouldn't trigger a "refresh" of application features such as pulling down to refresh my Twitter feed in Tweetbot.  Again, this is a fairly specific issue, but worth mentioning perhaps for Mac users.
Overall, the Logitech G Pro X Superlight 16000 DPI Wireless HERO Optical Gaming Mouse feels premium.  When used in a gaming setting, it's incredibly light, accurate and produces far less errors than some mice I have used in the past. In the office, it's a perfectly serviceable replacement for most mice but definitely this mouse was made for gaming.
If you would like to give it a try, you can pick it up at Best Buy Canada here (MSRP $199.99 CAD).
Additional Specifications:
Ambidextrous wireless gaming mouse is perfect for left-handers and right-handers alike
Designed in collaboration with some of the world's top esports professionals for hardcore gamers who require the ultimate in precision
LIGHTSPEED wireless connectivity provides the dependable, millisecond-fast performance required for a lag-free experience at a range of up to 1.8 metres
HERO sensor gives precise, fast, and consistent control across the entire 16,000 dpi range, and can be updated to 25,600 max DPI via firmware update
Large zero-additive PTFE feet glide smoothly for a fluid connection
Five programmable buttons (including scroll wheel) let you set up to game your way
Customisable RGB lighting adds to the experience
Ultra-lightweight design weighs just 63 grams, using a minimal redesign that's nearly 25% lighter than a standard Logitech Pro wireless mouse
Rechargeable design with a long battery life of up to 70 hours (depending on usage) to save you the hassle and cost of changing batteries
Gallery:
Leave a comment below and let me know what you look for most in a gaming mouse! Check out this tweet for more information on how to enter the giveaway!