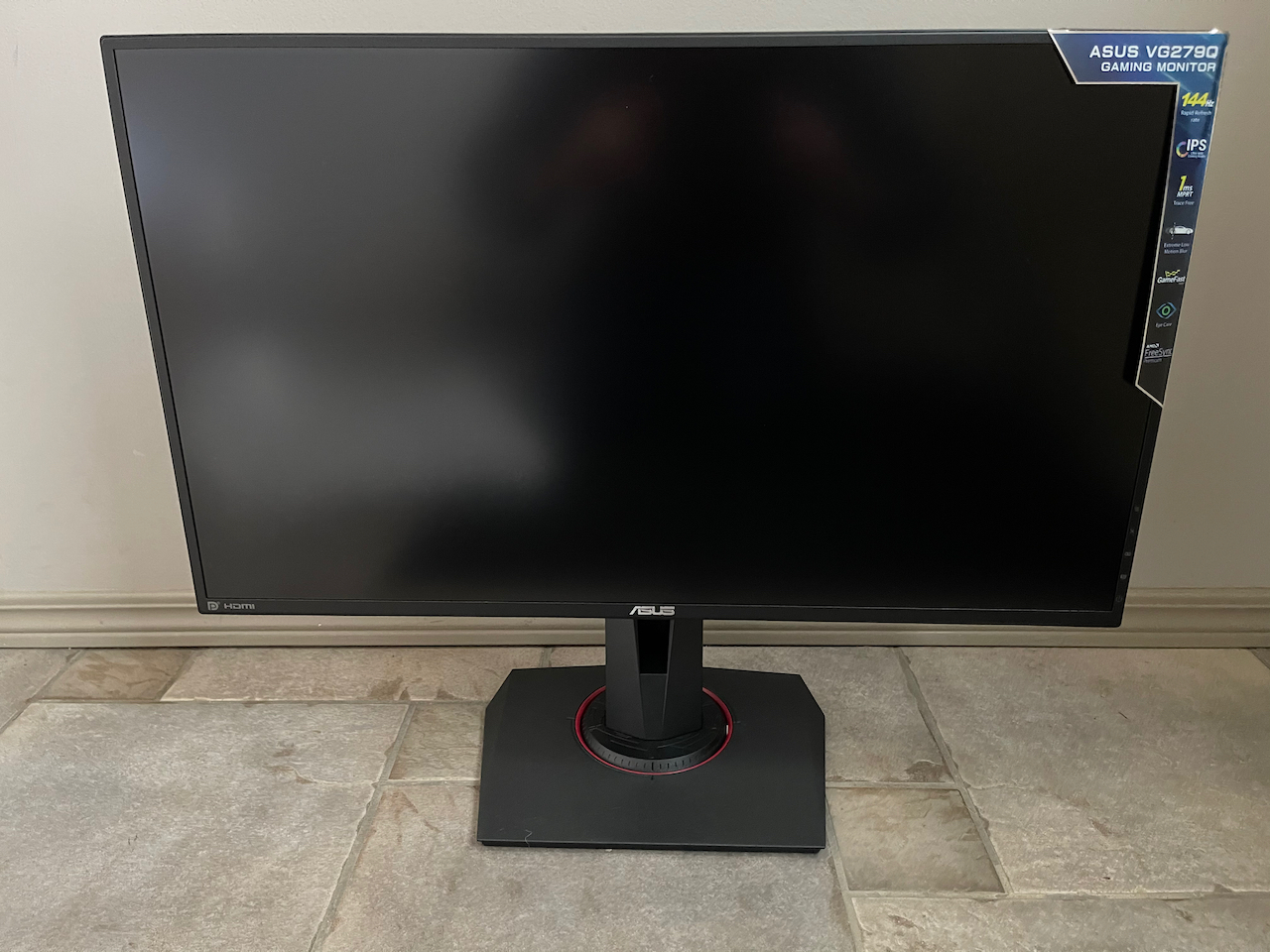 Recently, with the help of my good friends at Best Buy Canada, I have had the good fortune to be able to test out and review an ASUS 27″ FHD 144Hz 1ms MPRT IPS LED FreeSync Gaming Monitor.
Those that know me know that I'm not really a PC gamer, I tend to gravitate towards lounging on the couch with PlayStation 5, Xbox Series X and Nintendo Switch wired up to my TV. My current set is an 85″ Hisense and so I figured I would have to give this ASUS 27″ monitor a go with my PlayStation 5 and Nintendo Switch!
First of all, as I mentioned, I'm not a huge "sit at my desk and game" sort of gamer, but honestly this turned out to be a really fun experiment and I truly believe I may game like this more often from now on! Gaming in my computer chair, relatively close to the monitor gives a very sharp, concise visual as opposed to sitting an entire room away from the TV. I quite enjoyed it.
First, I started with the PlayStation 5 Console. I chose a fairly graphically intense experience (Final Fantasy VII Remake Intergrade) and paired it with my Pulse 3D Wireless Headset. The results were rather astonishing. Different from playing on a TV, the graphics were crisp and concise. I'm not really sure how to put it. They just seem more…detailed or something. Keep in mind I'm used to playing on a huge, higher end TV. I found myself catching more specific visual elements (such as minute details on the wall, or specific details of a monster).  The action moves smooth and seamless, color seemed a bit brighter than my TV which took a brief moment to adjust to, but allowed for a lot more sharpness.  All in all this felt like a more definitive way to play the PlayStation 5, I felt like I was truly seeing everything the developers put in there to for me witness.
Next, I decided to try a console that is a little less graphically intense and I hooked up my Nintendo Switch console. The setup I used included a Switch Pro Controller and a set of Sennheiser wired headphones (which plugged into the monitor itself).  As a game to try, I went with something bright and fast, and fired up the demo to NEO: The World Ends with You.  Anyone familiar with the series knows that this game features really nice colors and a very stylish art style, the perfect test.  This game REALY popped on this monitor.  The style and colors of the series shone through beautifully.  Action was fast and furious, no graphical glitches, just quick responsive visuals.  This really felt like I was playing it and experiencing it the way the developers intended!
All in all I am VERY satisfied with the ASUS 27″ FHD 144Hz 1ms MPRT IPS LED FreeSync Gaming Monitor. I went into this with literally no expectations as this is my first foray into gaming on a monitor.  The results of my playtime exceeded my expectations and more! Not only did the monitor provide an experience that was, at the very minimal, comparable to my higher end TV experience, it also pushed it a few steps further in a few aspects! My time with this monitor has changed my perspective on how I will play consoles in the future and I feel that sitting at my desk and gaming may become a much more frequent occurrence for me.  With a more middle to low-end price range, the ASUS 27″ FHD 144Hz 1ms MPRT IPS LED FreeSync Gaming Monitor seems like great value and I would personally recommend it as a monitor for console gaming.
Want one? Pick it up here at Best Buy Canada!
Check out Best Buy's full assortment of tech for gamers and streamers
Specifications
27″ backlit IPS  LED display with Full HD 1080p resolution delivers vivid images and sharp text
1ms MPRT and 3ms GTG response time delivers ultra-smooth action and improved in-game response time
Adaptive Sync/FreeSync technology with 144Hz refresh rate delivers a tear-free experience with AMD Radeon GPUs
GameVisual and GamePlus functions offer enhanced colour performance and control
Shadow Boost enhances images in dark areas without over-exposing already bright areas
ASUS EyeCare technology has flicker-free backlighting and a blue-light filter that minimizes eye fatigue
DisplayPort1.2, HDMI port, Dual Link DVI-D, and 3.5 mm audio jack offer convenient connectivity
Two built-in stereo speakers offer audio for a riveting home entertainment experience
Includes an ergonomic stand with height, tilt, swivel, and pivot adjustments so you can enjoy the perfect viewing angle
Pictures
Disclosure
A review product was provided to me via Best Buy Canada however my opinions are my own.
Like what I'm doing and want to help support me? Please feel free to shop through my affiliate links (but please don't feel obligated to do so).